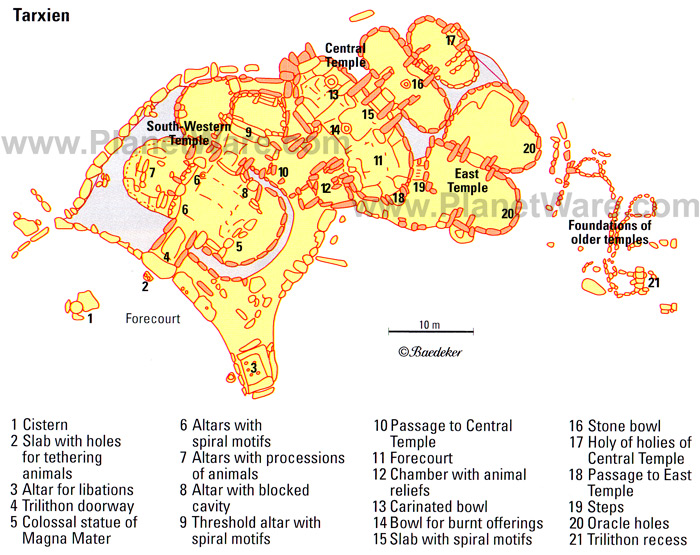 ---

Plan Of The Temple Complex At Tarxien.

Located inside the modern city limits, the Tarxien complex consists of three temples that were built 3000-2500BC. This complex is the type-site for the Tarxien phase of Malta's prehistory. It represents the last and most advanced phase of temple building on the island. There are also remains of a fourth temple which was built during the earlier Ggantija phase.

The three temples are in excellent condition. If their plan seems rather confused in places, it is because the middle temple was built last and for unknown reasons was jammed in between the other two. The middle temple plan exhibits an advanced form. Six apses branch symmetrically, three to a side, off a central aisle which joins the temple entrance to its terminal niche.

The Tarxien temples are noted for fine statuary, friezes, reliefs, and a wealth of pottery. Animal and spiral motifs are abundant. The best-known statue found here is an oversize partial torso which may represent a mother goddess of fertility. As is usual in the Maltese temples, the originals of the artifacts have been moved to the Archaeological Museum in Valetta for preservation and safekeeping; modern copies take their place on site.

Malta. 1998.
---