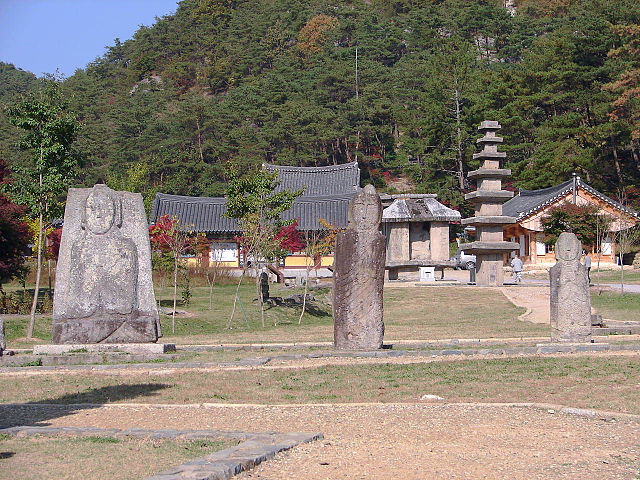 Unjusa Temple: Flat Buddhas, Stone Shrine, and Pagoda Towers
Hwasun County, Korea
The photographs on this page move progressively from south to north, up the main axis of the temple. There are three outstanding types of stonework along the way: Flat Buddhas, Multi-story Pagodas, and a Stone Shrine. During the early Joseon dynasty (15th century) Unjusa boasted over 1,000 stone pagodas and Buddha statues. Today, 91 stone buddha statues and 21 stone pagodas remain. Their regional style indicates that most of the works we see today, were created by local artisans during the preceeding Goryeo dynasty.
The seven-story pagoda in the first photograph has an unusual crossing pattern. In the foreground of the second photograph is a row of "flat Buddhas" that are typical examples of the regional style.
The seven-story pagoda in the third photograph is 7.5m (24.6 ft) tall, and rests on a platform that is atypically low on the ground. Behind the seven-story pagoda is a stone shrine. This shrine actually contains two worn images of the Buddha, one facing south (seen here) and the other (back-to-back) facing north. The stone shrine imitates a wooden house, with a hip-and-gable roof and ridgepole.
Behind the shrine (fourth photo) is an unusual, multi-storied, circular pagoda.