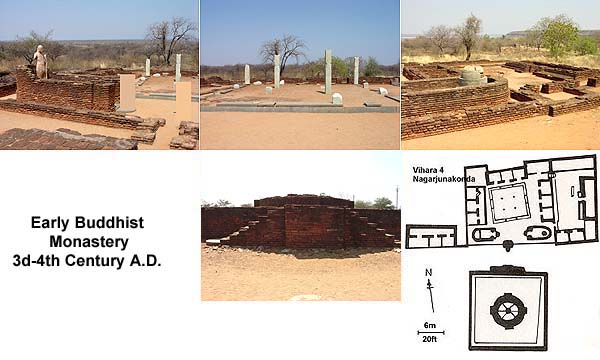 ---
Simha Vihara
Nagarjunakonda Island
This photo montage, from the reconstructed monastery in Nagarjunakonda, illustrates the typical elements of an early Buddhist monastery. A large stupa (with missing dome) stands in front of the complex, whose entrance is flanked by apsidal niches containing a large Buddha image in the left niche and a small stupa in the right niche. In Buddhist thought, the image and the stupa were equivalent, in the sense that both represented the Great Teacher. Within the building proper, a central pillared assembly hall is surrounded by the monks' cells and other functional rooms.
Other monasteries might vary this plan in terms of the number and function of cells and rooms; they might have only one apsidal niche, or none; and the introductory stupa will not be present in all cases. Individual elements might also transform into independent buildings; for example, an apsidal niche can appear on its own as a chaitya hall.
In appreciating this site, visitors should keep in mind that not all materials are original, nor do they duplicate the original structure exactly. One author (Elizabeth Rosen Stone, The Buddhist Art of Nagarjunakonda, Delhi, 1994, p.18) calls it a "life size model." All things considered, it seems appropriate to use the term "re-creation" in this context. For example, the large Buddha statue in the photos above is a copy; the original, whose head is itself a restoration, is kept in the site museum.
The name of the monastery, Simha (or Simhala) Vihara, indicates that it was built to accommodate monks from Sri Lanka. More technically, and using the archaeological numbering, it can be called either "Vihara 4" or "Simha Vihara 4."
---