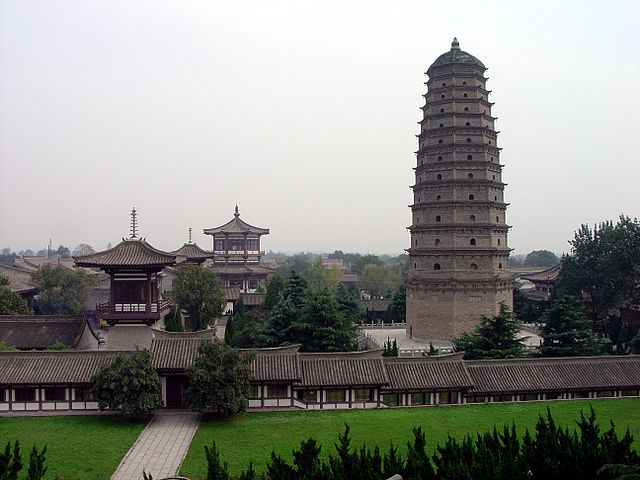 Famen Si
Fufeng, 74 mi (120 km) northwest of Xi'an
The history of Famen Si begins in the 2d century AD, when a pagoda was built to receive an Ashokan relic, believed to be a finger-bone1 of the historical Buddha. This relic was periodically taken from the pagoda and paraded to the imperial court at Xi'an for the veneration of the faithful. The temple was lavishly supported by Wu Zetian, the notorious Tang Dynasty empress who, whether for political or personal reasons or both, became an indefatigable patroness of all things Buddhist. On or before 874, the relic was sealed in the pagoda's subterranean crypt, where it remained undisturbed for the next 1100 years.
The original pagoda did not survive the intervening centuries, although its crypt remained (surprisingly) unlooted.In Ming times, a new pagoda was erected over the crypt. When the Ming pagoda collapsed in 1981, archaeologists discovered and opened the crypt, where they found the original Ashokan relic, along with many Tang-era treasures including gilded statues, nested reliquaries, "decoy" relics, incense burners, and other precious objects.
After their rediscovery in 1981, the treasures in the crypt were removed to a new museum, built on site for that purpose. The multi-storied, Ming-era, brick pagoda was rebuilt, and a new temple complex was created in Tang-dynasty style. The upper photograph (2006) was taken from the balcony of the museum, looking east towards the rebuilt pagoda (lower photograph, 2007).
---
1Recent examination has shown that this relic, although ancient and therefore venerable in its own right (see: "Buddha's Hair Relic"), is not even a human bone, much less the Buddha's finger bone.